By Ryan Craig
Young people often have a very different perspective. Consider that one of the most viewed, highest revenue producing channels on YouTube is DisneyCollectorBR.
DisneyCollectorBR posts videos of her hands (with colorful nail polish and bracelets) unboxing Disney toys and playing with them. All DisneyCollectorBR videos begin with the hands and a Brazilian-accented voice (the BR stands for Brazil) saying, "Hey, guys, Disney Collector here. Today I'm going to show you…"
In DisneyCollectorBR's most popular video, she unboxes "egg surprises" from SpongeBob, Angry Birds and Jake and the Neverland Pirates. The video's 100 million views could be explained by her amazing ability to crinkle the packaging. DisneyCollectorBR has been called by some "Christmas morning every minute," and by others — less charitably — toy porn.
***
While MOOCs may be massive, they are dwarfed by DisneyCollectorBR. And they appear less massive with each passing year. Nor are they sustainable, according to Babson's annual survey of 2,800 university leaders: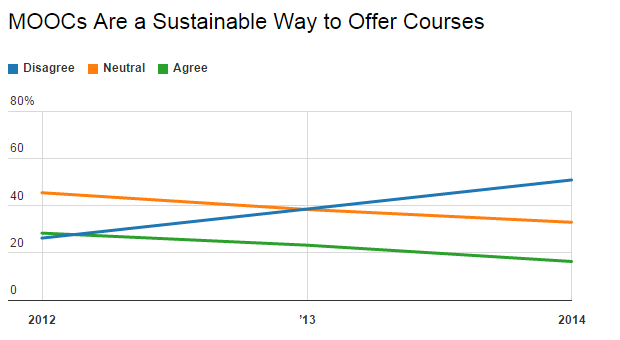 The reason for this is the absence of a viable business model, as we noted in these pages three years ago. The MOOC pioneer Udacity figured this out and pivoted in 2013. Coursera pivoted last year and now, in addition to MOOCs with "verified certificates" (not for credit, but a certificate indicating… something), Coursera offers Specializations (a defined series of courses), and is licensing MOOCs for universities to incorporate into existing degree programs — an uphill battle in the "not invented here" world of American higher education.
[ Full article available at Inside Higher Ed: https://www.insidehighered.com/views/2015/02/27/how-can-universities-use-moocs-recruit-students-essay ]