By Scott Jaschik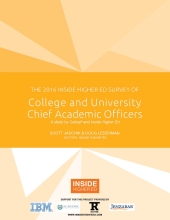 At a time of intense pressure on academic leaders, provosts are worried about the future of liberal arts education — not just at liberal arts colleges, but at all institutions that provide general education to students.
They have real doubts about their budget situations, some new MOOC-inspired forms of higher education and the ability to preserve academic integrity when pursuing big-time athletics.
But amid these and other problems, the provosts generally feel good about the academic health of their institutions. And the provosts are generally becoming more open to competency-based education (a form of higher education of which many academics were skeptical just a few years ago). On trigger warnings, one of the hotly debated issues in academe in the last year, the provosts are divided (but leaning toward dubious).
On tenure — of keen interest to many faculty members — the provosts aren't pushing for change, but are quite open to long-term contracts as an alternative.
These are some of the findings of the 2016 Inside Higher Ed Survey of College and University Chief Academic Officers, conducted by Gallup and answered by 539 provosts or chief academic officers. The academic leaders received complete anonymity on their responses, but their answers were coded by institution to allow for analysis by sector in some cases. You can download the full survey questions and responses here.
An Uncertain Future for the Liberal Arts
The provosts responded to questions about the liberal arts at a time of considerable angst at many liberal arts colleges and in the liberal arts divisions of many colleges and universities that also have professional degree programs. Some liberal arts colleges report unsustainable finances and difficulty attracting enough applicants. Liberal arts departments seem to be targets for elimination at all kinds of institutions. Parents and politicians worry (even if evidence doesn't neatly back up the concern) that today's liberal arts major is tomorrow's nonpaying tenant in her parents' basement.
[ Full article available at Inside Higher Ed: https://www.insidehighered.com/news/survey/2016-inside-higher-ed-survey-chief-academic-officers ]